Other Products
Aside from our selection of precision bullets, we sell a few other miscellaneous products.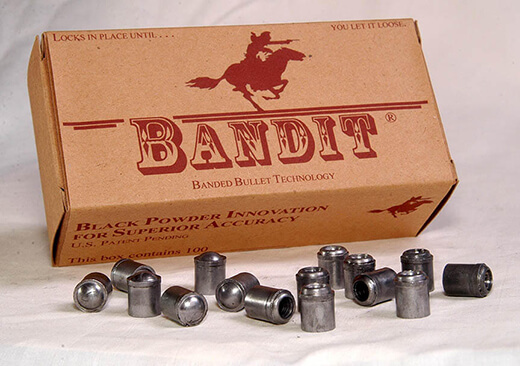 Black Powder Revolver Bullets
Check out our innovation for black powder revolver bullets.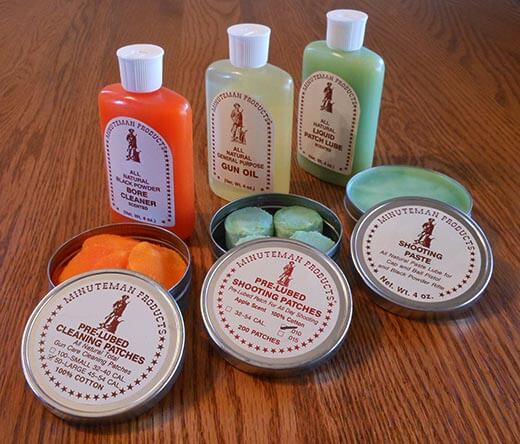 Minuteman Products
This family of products won't strip the seasoning from your muzzleloader's bore. Instead, it promotes a seasoned surface that will let you shoot again and again without increased trouble loading.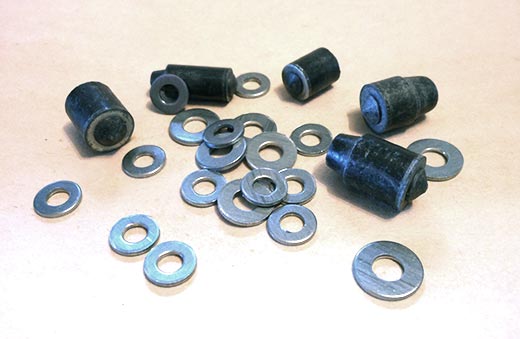 Zinc Gas Checks
For a complete understanding of this product click here.
Pure Zinc Gas Checks per 1,000
38/357/9mm
$38.00 +$5.95 Shipping
44 Caliber
$42.00 +$5.95 Shipping
45 Caliber
$42.00 +$5.95 Shipping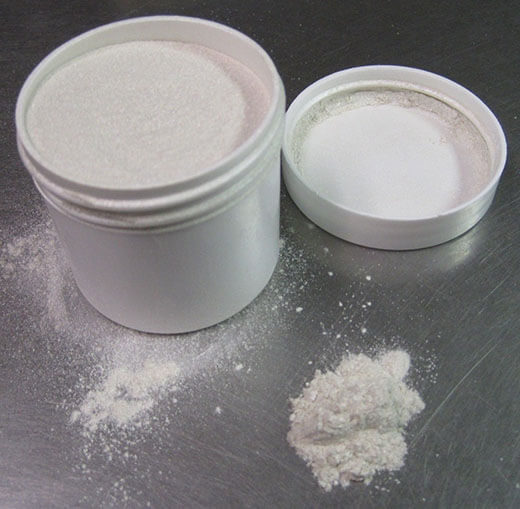 Mica
This is a container of industrial grade mica used to lubricate lead bullets. If you are flood coating bullets it is sometimes good to preheat the bullet to get a thin application of the lube. Then after the bullets are dry it is very easy to apply a high lubricity mica dusting by placing them in a bag and adding a teaspoon of mica.

Gently shake the bag until they have the desired dusting you are looking for.
This process is most beneficial to low velocity applications using lead bullets like pistols and muzzleloaders. Especially useful for swaged bullets.
Enough top quality lube to dust thousands of bullets for a very low price. Shipping is FREE.
Industrial Mica
4 oz. (2x 2 oz. jars)
$9.99 with free shipping
Lead Wire
Lead wire can be cut to length to make cores for jacketed bullets or just for forming lead bullets by swaging. It also can be used for weight on deep sea gear and many other applications.

We will extrude lead in the following diameters:
.178", .190", .221", .242", .254", .274", .280", .297", .307", .312", .329", .343", .351", .363", .377", .383", .408", .420".

After purchase, let us know what diameter wire you would like. Please give us a week to extrude your spool.

One spool holds 40 pounds of any one size of lead wire and ships in a priority flat rate box for just $17.00. Commercial quantities quoted by the ton.
Lead Wire
40 pounds
$135.00 plus $17.00 priority shipping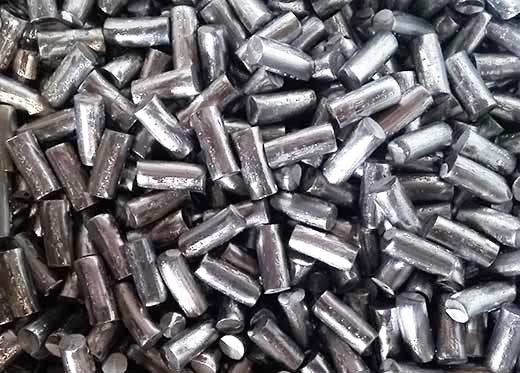 Fixer Lead
When casting bullets from unknown scrap sources, the caster may run into problems with his alloy. If the pour fails to fill out the mold completely and has a wrinkled look in areas, the addition of tin will fix this issue. To shoot well, the bullets being cast may need a minimum hardness to avoid striping against the rifling and increased hardness from tin may help but especially adding antimony can change a melt into a good shooting bullet. Higher velocity rifle bullets do better when increasing the antimony to greatly increase the bullets hardness. The presence of arsenic will harden the surface area of a cast bullet when quenched in cool water. As long as a bullet contains some arsenic it may be baked in an oven and quenched to make it harder as well.

This metal alloy is the answer. The alloy is high in tin, antimony, and has some arsenic. When melting your unknown scrap, cast and determine it's properties. If it needs tin to fill out just add a few nibs of this fixer alloy. A few will increase hardness too. For a higher velocity you may add more. If quenching to gain surface hardness you would only need one or two fixer nibs. This alloy has been extruded and cut into easy to use nibs. Extruding work softens the allow and when cast it is even harder. We sell 15 pounds of fixer nibs that will fix or greatly improve many pounds of lead scrap. (Potentially several hundred pounds. Depending upon the purity of the lead you are starting with.) Scrap metal is a low cost bullet alloy but it often is lacking in one area or another.

Don't settle on less than perfect. This investment will allow you to use just about any low cost scrap lead . On another note DO NOT USE LEAD FROM BATTERIES. This metal includes contaminants that will put off a toxic fume. All other lead alloy is safe to melt out doors with natural air flow. Shipped FREE via Priority mail service! This is a cheap price based upon the current retail price of tin etc. Save money and shoot well.

Some feedback on this item:

"used a handful to convert a pot of lead into great rifle bullets. Got a bunch of shot pistol bullets and had tried to make rifle bullets but accuracy was very poor. The fixer lead you supplied did increased the surface hardness enough to make them work."

"This alloy stopped my issues with a wrinkled surface. The lead I had was pure and I wanted to keep it as soft as possible, we only had to add a few nibs to get the wrinkles to disappear."

"works great fixing fenders on a car I am restoring the old school way." "adding your lead and a gas check we are pushing our cast bullets much faster with good groups."

"Paid $ .75 per pound for lead sheet from my scrap yard and was able to make a great pistol bullet out of it by adding a small handful of fixer. Later bought a 50 pound pig of pure lead and used about 2 1/2 times as much fixer to make the same bullet. Even using a bunch of fixer you saved me a bunch $$$. Thank you."
Fixer Lead
15 pounds
$50.00 priority shipping included